The ZZR1400 (Ninja ZX-14 in North America) is a hyperbike made by Kawasaki and it was their most powerful sport bike until the record was beaten by the Kawasaki H2. It was introduced at the Tokyo 2005 show and released for the 2006 model year as a replacement for the ZX-12R .
Braking and HandlingEdit
Front: Dual semi-floating 310 mm petal discs with dual radial-mounted four-piston calipers
Rear: Single 250 mm petal disc with twin-piston caliper
PerformanceEdit
The ZZR1400 is capable of accelerating from 0–60 mph in 2.5 seconds.The top speed is electronically limited to 186 mph (299 km/h) as a result of an agreement between the major Japanese and European motorcycle manufactures.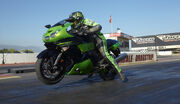 Motorcycle USA road tested the bike in its October 10, 2006, issue and posted the following stock results:
60 ft.: 1.713 seconds
330 ft.: 4.349 seconds
1/8 mile: 6.447 seconds, achieving 117.39 mph
1/4 mile: 9.783 seconds, achieving 147.04 mph
Motorrad magazine in Germany achieved the following test results:
Top speed 299 km/h
0–100 km/h 2.9 seconds / 40 m
0–200 km/h 7.6 seconds / 241 m
0–250 km/h 12.5 seconds / 548 m
0–280 km/h 18.5 seconds / 991 m
Popular AppearanceEdit
The motorcycle was featured in season 10 of Fifth Gear on October 30, 2006.
External LinksEdit
BikeHPS.com - UK supplier of BST Carbon Fibre Wheels for ZZR1400 (Ninja ZX-14) - info and pictures