Honda CBR 125 R

Honda CBR 125R 2005

Engine Size

124.7cc

Engine Cycle

4 Stroke

Tyre Pressure (Front/Back)

29psi (2 bar) / 33psi (2.27 bar)
The Honda CBR125R is a replacement for the discontinued NSR125. It is a 4 stroke engine with 124.7cc, designed for markets in developing countries. 
2004-2006
Edit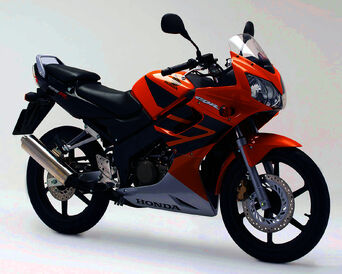 It is powered by a liquid-cooled four-stroke, two-valve SOHC, single cylinder 124.7 cc engine with a claimed power rating of 10 kW (13 hp). The Repsol color scheme was introduced in 2005 and remained for the following year only as the CBR125RS5/6.
In 2005 the CBR125 was produced in the Repsol Orange, White and Red color scheme.
2007-2010

Edit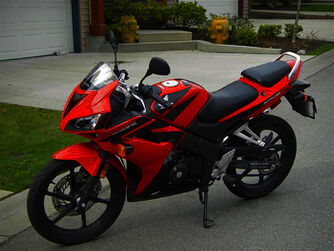 2007 model received fuel injection, as well as a restyled body fairing which resembles the CBR600RR . 
2011-Present
Edit
The design of the new CBR125R is based on the CBR250R.